Visa requirements *
Visa-exempt foreign nationals: Algeria, Ivory Coast, Gambia, Libya, Mali, Niger, Senegal, Syria and Tunisia.
Special passports: Holders of diplomatic and service passports issued to nationals of Brazil, Bulgaria, China, Egypt, Guinea-Bissau, Iran, Morocco and Turkey do not require a visa for Mauritania. Nationals of any country with a diplomatic passport except Italy do not require a visa.
Nationalities subject to visa on arrival: Holders of passports issued by any country can obtain a 90 days visa on arrival at Nouakchott International Airport.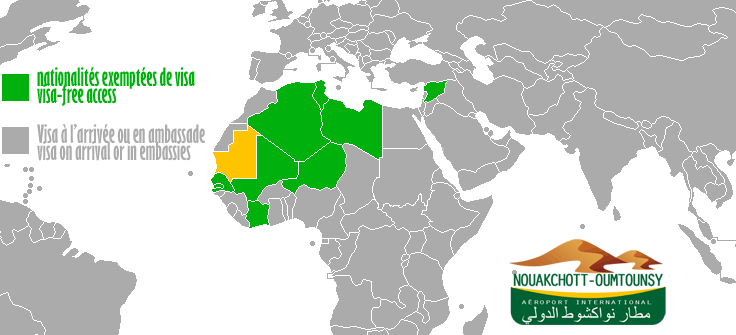 Note: a passenger who does not have Mauritanian identity papers (passport or identity card) is considered as a foreign passenger even if he / she has a multi-citizenship and must therefore be in possession of a visa .